If you want to build a good, mobile-friendly and responsive website quickly, you'll need to choose a platform. I want to tell about that how to install WordPress and how to create a website.
A few years ago most websites were made using HTML (code), CSS and even Flash. These took a lot of time to learn and know. The teacher was tricky to teach about the coding, CSS, and flash. That's why most people still think of creating a website in an easy way. Everybody used the WordPress and create a website in easy. In recent statistics made by WordPress tutorials w3schools, WordPress is the most popular content management system (55%) followed by Joomla (20%) and Drupal (11%).
Using WordPress to build your website For the beginners. It's the easiest platform I've ever worked with, but it's useful enough to suit everyone from small business owners and freelancers to creative artists and bloggers. It's also secure, your site will be mobile friendly and responsive. Few people creating a website for your business purpose.
How to install WordPress
In order to install WordPress (or any other type of websites), you're going to need two things:
Domain name (Domain name is the name of this site www.xyz.com)
Hosting (Hosting  is that server connects your site to the internet and give me the control panel and you control the site)
You have purchased the domain from this sites.
GoDaddy.com
web.com
Bluehost.com
Globe host.com
Recellerclub.com
HostGator.com
Upper site is provided the hosting. You open this site and purchase the hosting. After purchasing the domain and hosting you connect it. To get receive the cpanel.
After login username and password in cpanel. You show on these platforms, whereby install the WordPress. Under this video related the best way to learn WordPress step by step.
                                                                     learn WordPress in Hindi
If you install WordPress on your website. You see that interface.website is ready. If you want to change the website do it.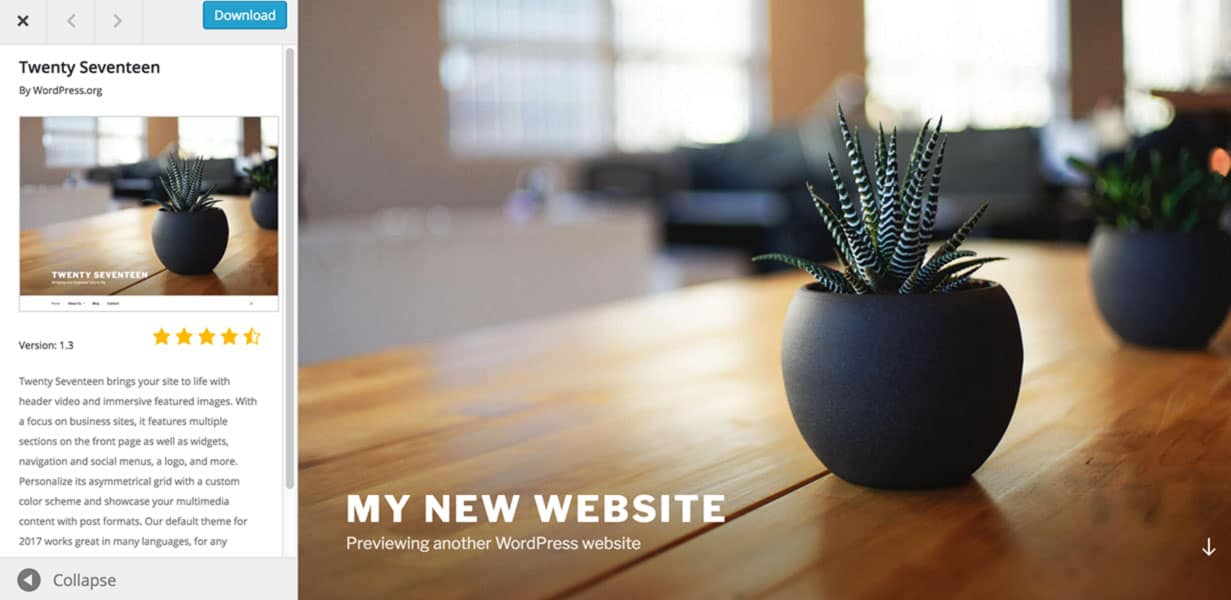 WordPress website examples
Login into WordPress dashboard
If you're not sure how to type in: https://yoursite.com/wp-admin (replace "yoursite" with your domain).
This is what the WordPress dashboard looks like: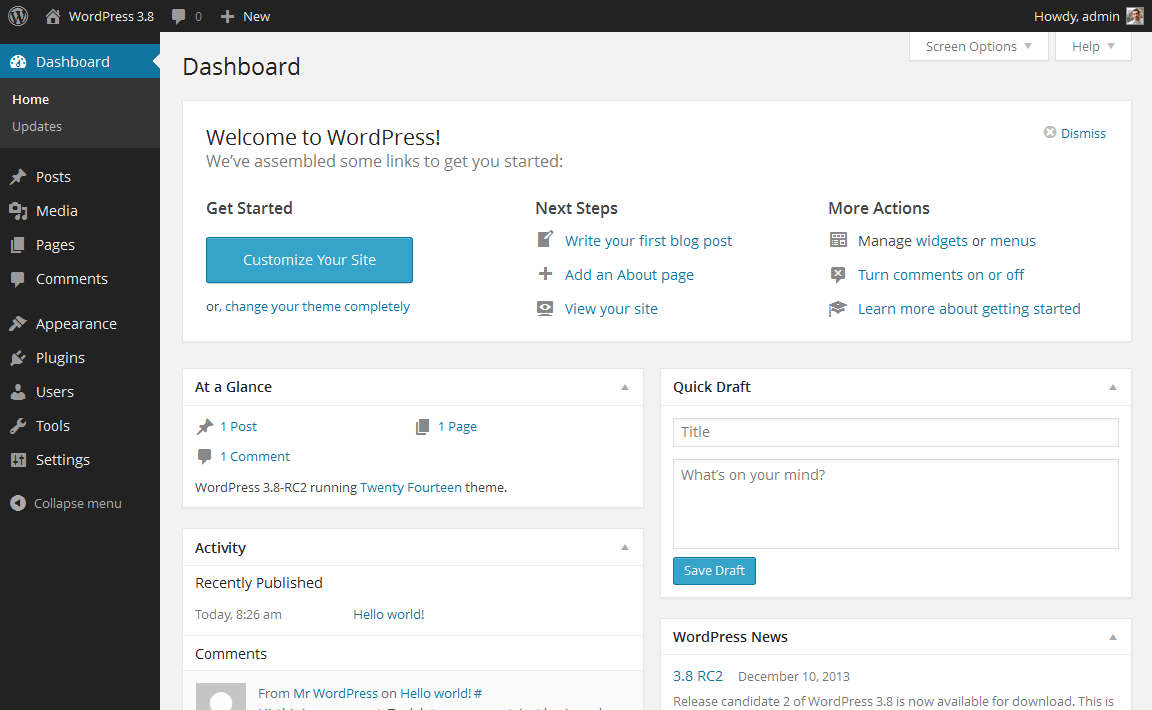 Everything is easily labeled. If you're feeling a bit overwhelmed, don't sweat it – I'm going to show you where to go next.
Choosing  Access FREE themes
Once you're on the dashboard, you've got access to over 1500 free themes! Just search the sidebar for "Appearance", then click "Themes".If you want something more professional or elegant than what you find here, you can head over to ThemeForest.net where you are select the different themes.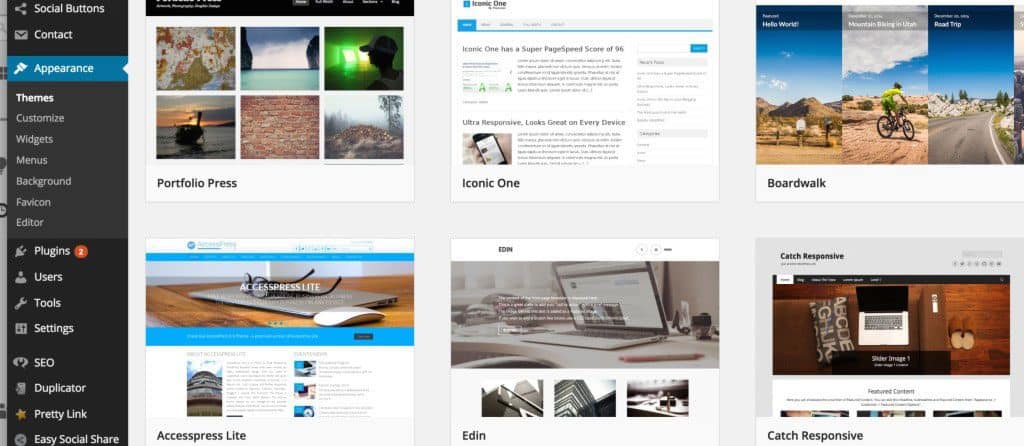 But before you do that, I really suggest you at least try spending some time browsing the free themes. Many of them are actually really professional and few them is very costly. you remember that comfortable them use on this site.
As you can see side, installing a new theme for your website is very easy.
You can search for specific keywords and/or use filters to find themes that suit your style. Finding the perfect theme can take a while, but it's worth it. You should also look for themes that are "responsive", as this means they will look good on any mobile device.
Installed the new theme
Once you have found a theme you like, installing it is as simple as clicking "Install" followed by "Activate".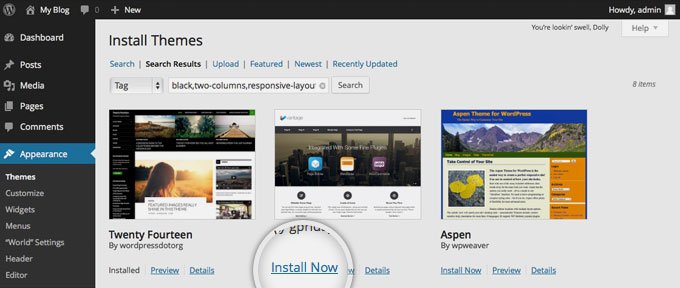 IMPORTANT: Changing themes won't delete your previous posts, pages, and content. You can change themes as often as you want without having to worry about losing what you've created.
Do you check: Website Design – For Traffic & Search
Create the new page for the website
With your theme installed, you're ready to start creating content. Let's quickly run through some of the basics:
1. Look along the sidebar in the WordPress Dashboard for Pages click it "Add New".
2. You'll find a screen that looks a lot like what you've maybe seen in Microsoft Word. Add text, images and more to build the page you want, then save it when you're done.
3. Save any changes you've made to the page by clicking "Update"
4. Click "Appearance" -> "Menus" in the sidebar of the WordPress Dashboard
5. Find the page you created and add it to the list by clicking the checkbox next to it and then "Add to Menu".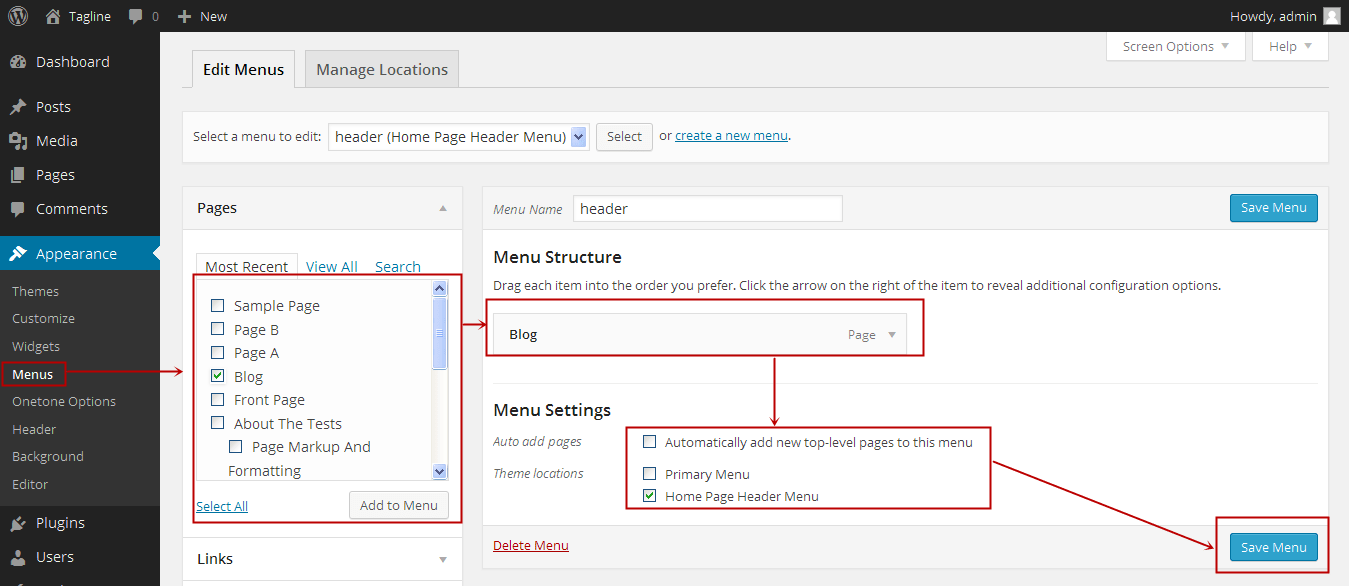 If you have a blog on your website, Posts will be where you turn to next. You can use different categories to group similar posts.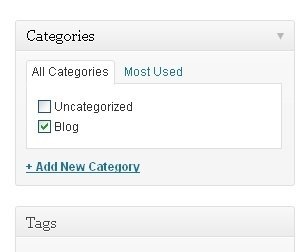 If you want to add a blog to your website, you can use different categories and posts. Let's say you want to create a category named Blog. Simply add it to your menu and start making posts.
Here's what you need to do:
a. Create a new category by going to "Posts -> Categories"
OR
b. Create a blog post by going to "Posts -> Add New". Once you've finished writing your blog post, you need to add the right category for it.
Once you've created your category, simply add it to the menu, and you're in business!
Thanks to reading my post how to install WordPress and create a website 2018